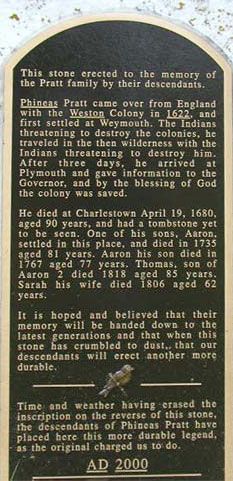 The History of Cohasset Central Cemetery
Overlooking Little Harbor as its terrain slopes to water's edge, Cohasset Central Cemetery is a place of great beauty and peace. Active for almost three centuries and containing about 500 gravestones in its 4.5 acres, markers of slate, marble, and granite are witness to the passage of time and to changing fortune, belief, custom and style.

The oldest part of the cemetery is located in a small area known as "Old Slates." It contains the graves of some of Cohasset's earliest settlers and families. They were farmers and fishermen, ship builders and seafarers – Towers, Pratts, Lincolns, Bates, Beals, Hobarts and many others.

The original colonial "Burying Grounds" had been part of the town's common land. In 1825 Samuel Bates deeded land to the south and in 1867 Edward Tower deeded land to the north.
Today, Central Cemetery still serves its community.
Alongside the "Old Slates" of the earlier times, and later 19th c. marble and granite monuments of urns, obelisks, scrolls and statuary, there are three columbaria: the Prescott T. Cumner Columbarium built in 1982, the Edward E. Tower Columbarium added in 1988, and the Daniel C. Cotton Columbarium built in 2007.
Old slates
Cohasset Central Cemetery contains excellent examples of 18th c. gravestone art, well represented by the Scituate school of carvers: the First and Second North River Carvers (1700 – 1778) and Jacob Vinal Sr. and Jr. (1715 – 1781). The work of these carvers was the first, purest form of folk art that originated in the American Colonies, giving us a sense of the period and its belief system.
1. Margaret Tower
d. 1705. Oldest gravesite. Long presumed oldest extant stone; however, the stone's late design by Jacob Vinal Jr. suggests 1740s date. It may have been carved at the same time as husband Ibrook's (d. 1732) stone of the same design. His second wife d. 1747. All three stones were possibly carved at the same time.

2. Sarah Pratt
d. 1706. Death's head by First North River carver. This image remained the First and Second carvers' symbol for over 50 years. Believed to be the oldest gravestone in the Cemetery.
3. Urian Oakes
d. 1770. This gravestone is a classic "skull and crossbones" design, reminiscent of the Puritan view of death.
4. Rev. John Browne
d. 1791. An outspoken supporter of the American Revolution, during which rebel arms were cached under his pulpit in the First Parish Church.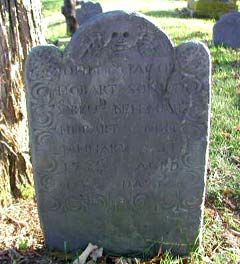 5. Hobart Family
Rev. Nehemiah Hobart – d. 1740. First Pastor (1721 – 1740) of First Parish Church, his wife Lydia (d. 1736/1737) and three sons. Two of the sons were stillborn, the third lived only 13 days; Lydia died 12 days later – a sad group of graves.
John Jacob Hobart - d. 1735 Note decorative elements: Catherine wheels, sand dollars.
Carver: Jacob Vinal Jr.
6. Stetson Family
Ezekial Stetson - d. 1732. Jacob Vinal, Jr., carver.Note "heartmouth " symbol which appeared in 1740s on Jacob Vinal Jr.'s spirit skulls. Carved only in 1741. Heartmouth replaces slanted teeth. Cohasset Central Cemetery has at least 3 of 13 known heartmouths in local burying grounds. Found only on children's gravestones. In Cohasset these belong to Ezekiel (d. 1739), John (d. 1740), and Lydia (d. 1741) Stetson.
Great awakening
In the mid 18th c., the great religious revival movement called "Great Awakening" offered salvation for all. Human faces, saints and cherubim began to appear on gravestones, reflecting this release of the spirit.
7. Daniel Tower
d. 1774. The angel/saint was Jacob Vinal Jr.'s last image. Note fleshed out features.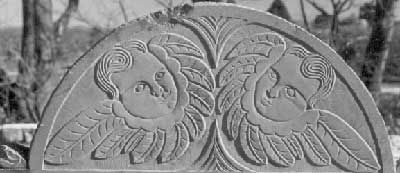 8. Thomas Stevenson
d. 1775. Note cherubim image, with human features of angels.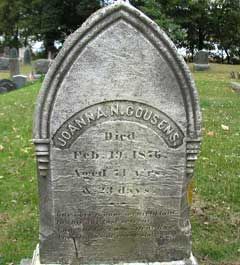 9. Cousens Family
ca. 1870-80. Gothic arched stones, a popular architectural feature of that time.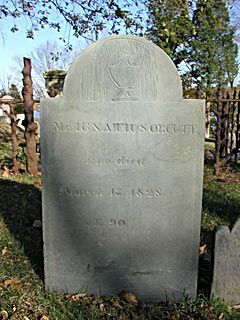 10. Ignatius Orcutt
The classic willow tree and urn motif reflects an age that no longer feared the howling wilderness of the Puritans nor Calvanist damnation.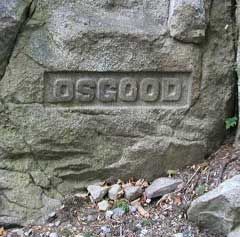 11. Osgood Family Plot
The large boulder at the base of the Tower columbarium marks the gravesite of Rev. Joseph Osgood, who is credited with working to establish the school system in Cohasset. Joseph Osgood School is named in his honor.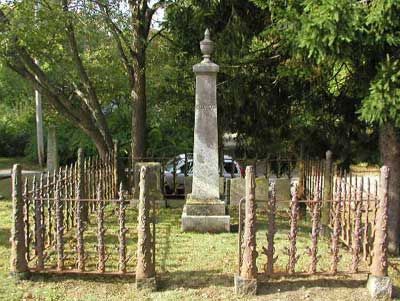 12. Lothrop Family Plot
Note the cast iron twig and branch fence surround.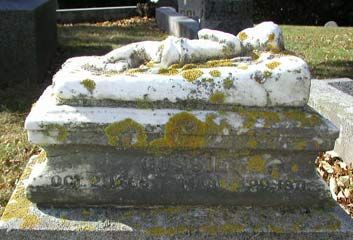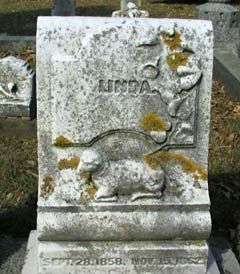 13. Lulu, Jennie, Linda Tower
d. ca. 1860s. Sleeping children and lambs memorialize the Tower sisters. This symbolic motif was beloved by Victorians.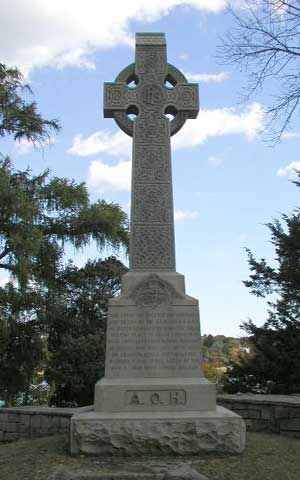 14. Celtic Cross
Erected in 1914 by the Ancient Order of Hibernians to memorialize the 99 victims lost aboard the Brig St. John of Galway, wrecked on the Grampus Ledge off Cohasset in a severe storm in 1849. The 45 bodies recovered are buried beneath the Cross.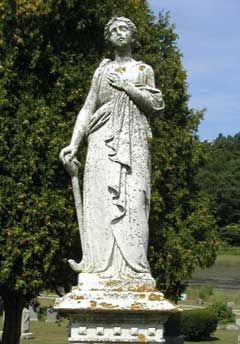 15. Samuel L. Jenkins
d. 1886. Jenkins was from a seafaring family. Note the anguished female statue with anchor.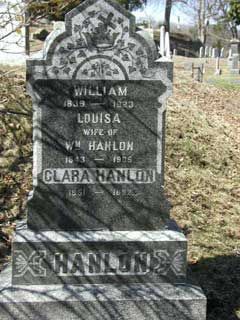 16. William Hanlon
With six brothers, he formed a national touring "pantomime" theater company. Authoritatively described as the founder of American vaudeville theater.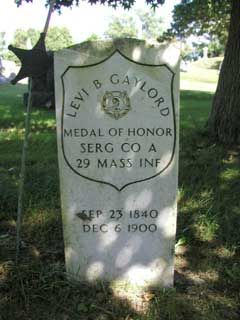 17. Gaylord Family Plot
This white marble gravestone marks the grave of Cohasset's only known Congressional Medal of Honor recipient, Levi B. Gaylord. He received the medal for heroic action on the road to Richmond during the Civil War.
18. Caretakers Building
Built as a Receiving Tomb in 1873. Note filigree on roofline.
19. Pratt Family Monument
The inscription had become unreadable. Records read "When this stone has crumbled to dust, our descendants will erect another more d urable." In 2000, a new bronze plaque was attached to the back of the original, giving the chronology of the family's history in America from Phineas Pratt's arrival in Weymouth in 1622.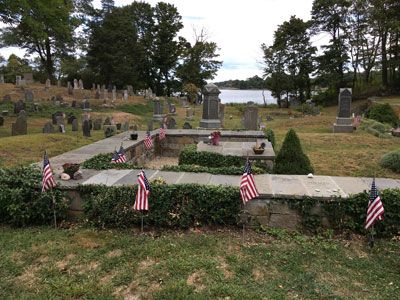 20. Prescott T. Cumner Columbarium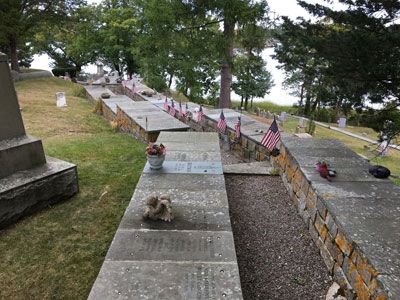 21. Edward E. Tower Columbarium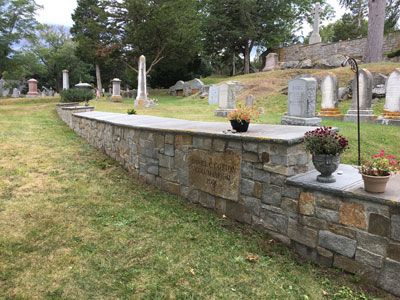 22. Daniel C. Cotton Columbarium
Military service
Cohasset citizens who died in military service from the American Revolution through the Vietnam War are honored on Memorial Day each year in a ceremony attended by young and old. Their graves are marked with an American Flag.